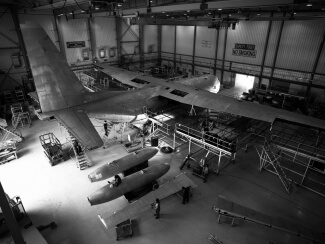 Our new MRO facility at Al Ain (MRO AA) is a comprehensive aviation sustainment centre dedicated to ensure depot level MRO services to the highest quality standards.
Based on a modular design to enable future expansion, it currently includes four multi-purpose hangars, over 30 engineering back shops, and a dedicated climate-controlled paint facility.
Our supplier portal helps us connect with suppliers and facilitates efficient information exchange. The relationships we forge with our suppliers are key to our ability to meet customer needs.
We maintain our standards of quality and reliability by embracing the philosophy of continuous improvement and working with credible suppliers.
Our Supplier Quality Assurance Department evaluates suppliers' ability to consistently manufacture products that meet the desired requirements and specifications. This includes on-site evaluation, parts performance evaluation, and surveys. Source inspections are conducted at the supplier's plant by either AMMROC or a designated representative.
Our Supplier Quality Manual ensures that suppliers comply with the regulations stated in AMMROC's purchase orders and the commercial and military standards (e.g. FAA, ISO 9001:2000, AS 9100). These practices ensure that the delivered material meets or exceeds the required quality levels. The requirements are based on a defect prevention system that improves quality, lowers costs, and increases productivity.